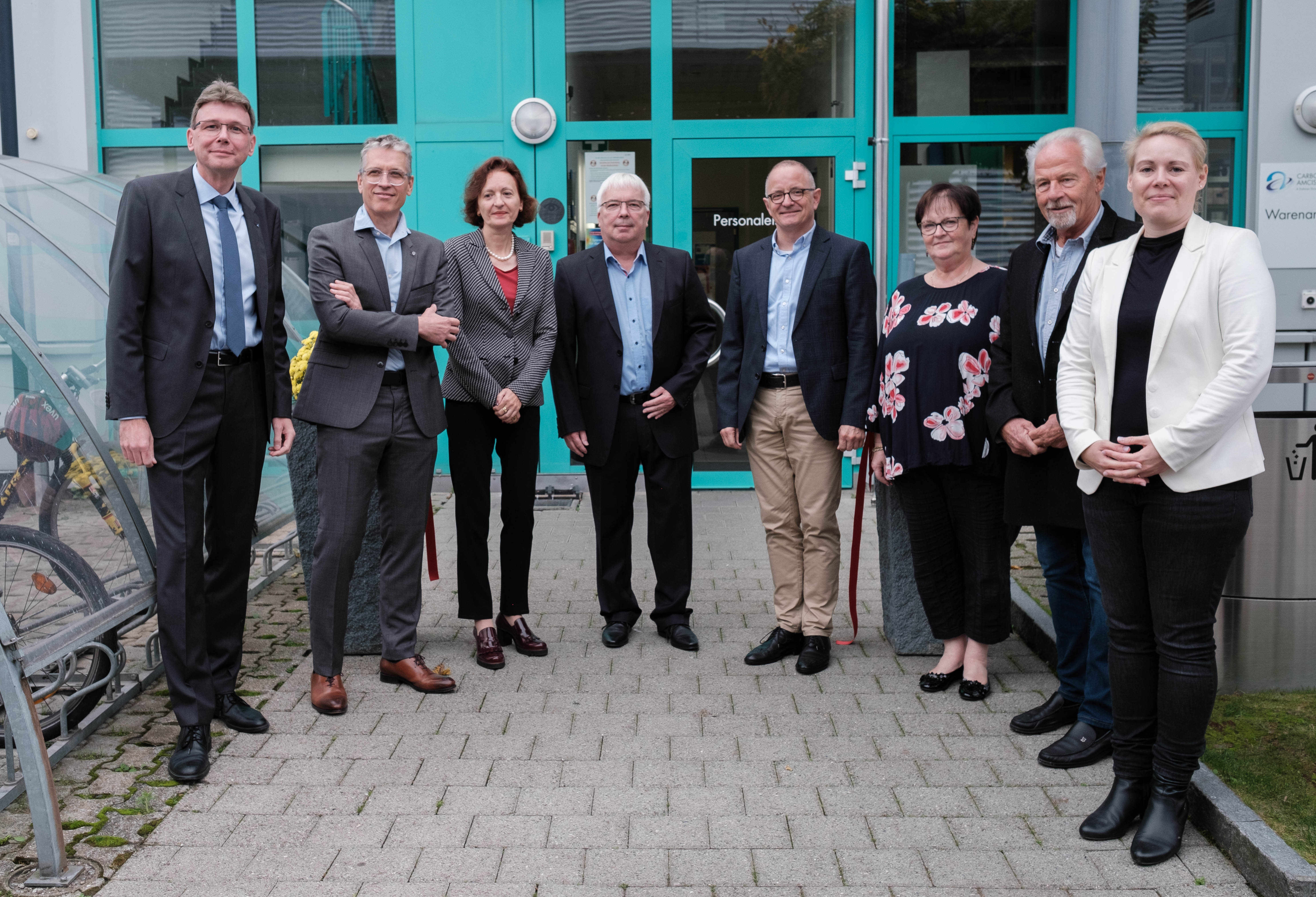 Regierungsrat Dieter Egli visits CARBOGEN AMCIS in Hunzenschwil
Inauguration of new QC&A laboratories at Hunzenschwil site
(German see below)
On October 13th, CARBOGEN AMCIS celebrated the inauguration of our new laboratories at our Hunzenschwil site in Switzerland.
In the past 10 months we have expanded the capacities of our facilities in Hunzenschwil with three new analytical labs – including one that can handle high potency of category 3.

Dr Mara Guzzetti, General Manager Switzerland, and Pascal Villemagne, CEO CARBOGEN AMCIS, welcomed Regierungsrat Dieter Egli, Government Council of canton Aargau, for the opening ceremony.

Regierungsrat Dieter Egli was very pleased with the expansion and pointed out its importance for the region and the canton of Aargau where CARBOGEN AMCIS is located since several decades ago. He also expressed his gratitude to the local authorities and community for the good and efficient collaboration.

Among the guests were also a delegation of the municipality of Hunzenschwil, Urs Wiederkehr, Mayor, Franz Bitterli and Collette Hauri and the President of the city of Aarau, Dr. Hanspeter Hilfiker.
The opening ceremony was followed by an Apéro and a tour through the new facilities.

In addition to the Quality Control & Analytics labs the whole expansion includes new storage rooms & stability study chambers, analytical offices, a weighing chamber and several new social rooms and a cafeteria. This expansion creates more than 40 additional job positions in Hunzenschwil.
***
Der Aargauer Regierungsrat Dieter Egli besuchte heute die CARBOGEN AMCIS am Standort in Hunzenschwil anlässlich der Eröffnungsfeier der neuen Labore.
Die CARBOGEN AMCIS ist ein Dienstleistungsunternehmen im Bereich der Forschung und Entwicklung von Prozessen zur Herstellung von aktiven pharmazeutischen Wirkstoffen. Neben dem Hauptstandort in Bubendorf BL betreibt die CARBOGEN AMCIS in der Schweiz drei Standorte in Hunzenschwil AG, Aarau AG und Vionnaz VS sowie fünf internationale Standorte in Frankreich, Grossbritannien, China und den Niederlanden.
Am Hunzenschwiler Standort eröffnen nun nach einem 10-montatigen Ausbau drei neue Analytiklabors, eines davon für hochaktive Wirkstoffe.
Nach den Ansprachen durch Dr. Mara Guzzetti, General Manager Switzerland, und Pascal Villemagne, CEO von CARBOGEN AMCIS, gratulierte Regierungsrat Dieter Egli zur Inbetriebnahme der neuen Räumlichkeiten und zeigte sich erfreut über den Ausbau des Standortes und die Schaffung neuer Arbeitsplätze in der Region und dem Kanton Aargau. In Bezug auf den Fachkräftemangel ermutigte er CARBOGEN AMCIS selbstbewusst auf sich aufmerksam zu machen, um Talente anzusprechen.
Es folgte danach das zeremonielle Durchschneiden des Bandes und ein Rundgang durch die neuen Laborbereiche. Beim gemeinsamen Apéro tauschte man sich gegenseitig aus und diskutierte angeregt über den Wirtschaftsstandort Aargau.
Ebenso anwesend waren der Stadtpräsident Aarau, Dr. Hanspeter Hilfiker, eine Delegation der Gemeinde Hunzenschwil um Gemeindeammann Urs Wiederkehr sowie die Standortförderung Aarau.
Der Ausbau umfasst unter anderem drei neue Analytiklabore, eines davon für hochaktive Wirkstoffe, sowie Auswertzone, einen Wägebereich, Lager- und Kühlräume sowie eine neue Cafeteria und weitere Sozialräume. Das Investitionsvolumen des Ausbaus betrug rund 7 Mio. CHF. und insgesamt werden 41 neue Stellen am Standort Hunzenschwil geschaffen.
Links